Rowan is 2008 #3 RRCUS Bitch in Conformation
AOM BARRC 2008
Best of Breed
Antelope Valley - Nov 2008
Back in the ring after her September litter,
Rowan awarded BOS at the OCRRC Specialty April 2008. Over 60 bitches entered.
She went on to win Award of Merits the following two days at the Hound Classic.

Rowan had a big year in 2006. She finished the year as #7 RRCUS Bitch in Conformation. She was invited to the Top Twenty competition at the Ohio Nationals, and made us very proud as she looked lovely in the ring .
Rowan #7 RRCUS Bitch Top Twenty Photo May 2007

Best of Breed
Bahia Sur - June 2006
---
Rowan is Best Opposite Sex Twice on a Southern California Double Specialty Weekend !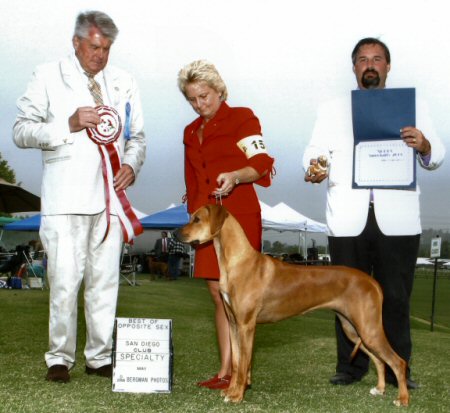 BOS at San Diego Rhodesian Ridgeback Club Specialty Show and Sweepstakes
May 11, 2006
---
BOS at Western Hound Group Classic
May 13, 2006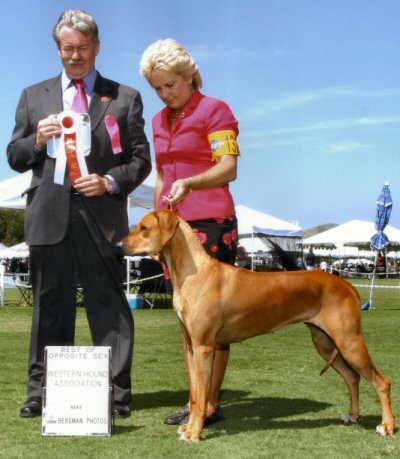 Presented by Lynda O'Connor
Field Championship earned at the 2006 RRCUS Utah National Specialty Lure Coursing Trial
New Dual Champion the day before she turned two !
From Twyla's first litter, our little Rowan got off to a great start.. At just nine months, she took BOW at Scottsdale, in the rain, a 5-point major. She finished her Championship just one week shy of 18 months old, in an amazing October for Manzanita hounds. First, she was chosen Winners Bitch in an entry of 60 bitches by esteemed Judge Annie Clark at the Del Valle show in Pleasanton, then she finished her Championship the following weekend winning another Major under Judge Beverly Capstick. She went on to a lure coursing Field Championship from there.